THE HEART OF SINGING
6-Week SERIES

Participate through Live streaming or join the live class for 10 Port Townsend students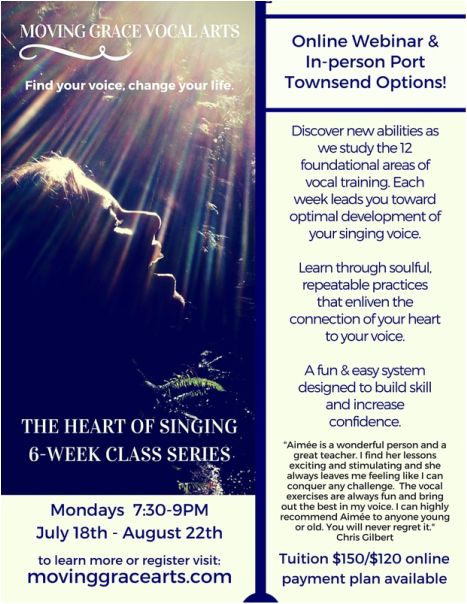 Week 1:
PRIMAL SOUND & RELEASE
All great singing comes from a relaxed body and mind. Our original voice is our most powerful and profound voice. Release the tension that blocks your essential singing sound, come home to YOUR voice.
Week 2:
POSTURE & BREATHING
Learn how to create alignment that frees the voice, while experience greater freedom and ease in your body. "Voice is an expression of the breath"... knowing, growing, and freeing your breath means a voice that blooms!
Week 3:
RESONANCE & REGISTERS
What do we feel when we melt into someone else's singing? At the physical level, we are experiencing the resonance of the voice in and through their body. Our bones are like bells being struck... but how do you make the bell ring clear and full? How do you create this deep enjoyment of sound whether you are singing high or low in your range? This class will show you.
Week 4:
POWER & ELICITING PITCHES
We all appreciate a powerful singing voice... but what does power mean, and how is it created? Perhaps not in the way you have been trying! Tonight you will also learn just how connected proper vocal power and accurate pitch really are!
Week 5:
AGILITY & RANGE
How do singers move quickly and easily from note to note? What are the secrets to expanding into your low or high voice? A playful evening that opens your voice far and wide into terrain that is all yours - but never knew you had.
Week 6:
ARTICULATION & INTERPRETATION
How we share the words, the meaning of our music with others is the icing, the sweetness of offering a message directly from the heart. With a strong vocal foundation in place, this week you are ready to explore the most potent aspect of any singers practice.
If a payment plan is needed please email me @ movinggrace@gmail.com


Online Students will meet with us via Zoom.com meetings - a webinar video site with excellent quality production.


In person students will meet at the Dancing Sky Studio off Cherry St, Port Townsend.